Current Projects
---
Alejandro Viñao Trio CommissionUPDATE!!
Alejandro has begun work on the piece! After three long years of raising funds, the piece is finally breathing its first breathe. Plans have been set into place to premiere what is sure to be a new staple in the percussion repertoire at Michigan State University in September.
Its not too late to be a part of this commission! We are looking for more members to join our consortium. We will be accepting partners up until the premiere of the piece. Don't miss out on this chance to help develop our art form and get a really cool piece of music at the same time! Send us an email at
talarasapercussion@gmail.com
, if you are interested in joining.
--------------------------------------------------------------------------------------------------------------------------------------------------------------------------
We are proud to announce the commission of a new piece by composer Alejandro Viñao, but we can't do it alone! Tala Rasa is actively searching for partners.
The commission fee is $10,000. Tala Rasa will be contributing $2,000. We are seeking 20 partners for this project at $400 each. As a member of the consortium, you would receive the following:
-Exclusive performance rights for one year.
-Your name included in the consortium list, which is printed on every score.
-A score and parts.
As the consortium organizer, tala rasa will retain rights to the world premiere and first commercial recording for a period not to exceed one year, as well as the PASIC premiere performance.
We hope you will join us in our effort to expand our ever-growing repertoire with another exciting piece from Alejandro Viñao.
Alejandro offered a bit of a description of what the piece will be like:
CONCERNING THE COMMISSIONING OF A NEW WORK FOR PERCUSSION TRIO
Following our discussion about a new work for percussion trio I am writing to you to formalize the ideas, structure and practical details concerning the project.
As agreed during our discussions, Tala Rasa will organize a commissioning consortium to raise the required fee, administer the collected funds and in general deal with all administrative issue concerning the project.
The intended duration of the composition would be around 15 minutes.
The piece would be written for a trio where each player would perform on a mallet instrument as his/her main voice (marimba or vibraphone) but would also play non pitched instruments (toms, congas, bongos, etc) built around the main mallet instrument into a multi percussion set. In this way there would be 3 multi percussion sets, one for each player.

I may also include a xylophone and a glockenspiel to extend the colour and range of the main mallet instruments.
My fee for this work would be $10,000 usd.
I estimate that it would take me about 4 or 5 months to complete this work. The composition is likely to be in more than one movement. I would make each movement available immediately after completion so that the players may start learning on it as soon as possible.
I would start working on the piece after the consortium has found the required number of members to cover the commissioning fee and I am able to finish any other composition I may be working on at the time.
I look forward to working on this exciting new project. All the best,

Alejandro
Viñao

---
"It Comes In Waves" Andrea Mazzariello

We met Andrea through the So Percussion Summer Institute and fell in love with his music. "It Comes in Waves" was premiered in the winter of 2014 and we are excited to keep it in our concert program for the upcoming year. Andrea wrote this about the piece:

"This was conceived of with a technical thing in mind, almost like an etude. The thing? Alternate strokes! I know, simple, but the idea of R L R L R L obsessively pervades the piece. I wrote almost everything to work with this kind of alternate sticking, all three of you in unison, just banging it out. The exception is the extended slower moment towards the very end of the piece, where you break the pattern for the first time. It should be a thing of beauty."

This piece represents a huge step forward for the group and our goal of creating and expanding the percussion trio repertoire.

Check out more of Andrea's music!

---


Future Projects

We're really excited to have so many composers willing to work with us on creating some new music. Below are some fantastic composers with future projects are already in the works:
Andrew Conklin

Andrew Conklin (b. 1984) began his lifelong fascination with sounds when, at age six, he received a toy record player and attempted his first forays into sonic manipulation. Andrew was recently selected to participate in the University of South Dakota's 60/60 New Music Showcase and conTemplum's National Student Electronic Music Event at Temple University. This summer, Andrew will be a visiting composer at the New Music on the Point festival in Vermont. Andrew co-founded the Language, Music, and Emotion Research Group (LaMERG) at SUNY Stony Brook, and recently received a grant to co-develop an online music theory course for the university. Andrew also plays guitar with the indie-rock musician Chris Cohen, and he has been a long-time bass player for the bluegrass singer Laurie Lewis. His most recent album, How Speaker, was released in 2012. Andrew currently teaches at SUNY Stony Brook, where he has taught courses in music theory, music technology, rock, and jazz.
---
Powered by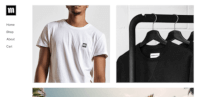 Create your own unique website with customizable templates.