Michigan Tour - Fall 2015
Dates and Times TBA

Tala Rasa returns home for a week-long tour of concerts at art galleries, college, and high schools. We are very excited about this tour because it gives us a chance to present a concert consisting primarily of pieces that were written for the trio. The center point of the tour will be Alejandro Vinao's new trio, and will mark the first set of performances for this piece. Also on the program will be three other pieces written for the group by N.G Gianopoulos, Andrea Mazzariello, and Thomas Childs. Unable to stay away from the existing masterworks for percussion, Tala Rasa will also be presenting works by Thierry De May and Mark Applebaum.

Stay tuned for more info!!
Powered by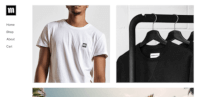 Create your own unique website with customizable templates.